Middle C Afterband Featuring Mel Gray and Jaman Laws
Fri Mar 6 @ 11:59 PM
Free
Tickets are $0. Please register online. Doors at 11:15.
Middle C Afterband Featuring Mel Gray and Jaman Laws
Doors at 11:15.
Mel Gray
While Mel Gray is not a household name (yet) he definitely deserves to be! Gray, who calls Kannapolis home, has been an All-Star in the gospel and R&B field for many years, playing onstage and in the recording studio with such artists as John P. Kee, Daryl Rice, Maria Howell, Kevin Bond, Joe Sample, Ronnie Laws, Lionel Hampton and a host of other over his long career. After starting his musical journey on guitar at the age of eight by playing in his church, Gray then mastered the bass while in his late teens and has since become just as famous for his bass guitar prowess as his distinctive guitar licks. After meeting gospel legend John P. Kee at a music workshop at NCCC, Gray's career began to take off. Gray cut his teeth on the road with soul star Little Royal who was a popular James Brown impersonator and subsequently toured with many other R&B performers, coming back to the area to play with Rounder recording artist Daryl Rice for three years. Gray then became a member of the much-loved house band the Cellar Dwellers for the original Jonathan's jazz club in the '80's. The Cellar Dwellers later became the popular 7th Street Band, were hired to play the wrap party for the movie The Color Purple and met the movie's standout gospel soloist Maria Howell fresh put of college, who then became the 7th Street Band's lead singer while being mentored by Gray. After his stint with the 7th Street Band Gray also spent seventeen years with award-winning gospel act the Tri-City Singers after meeting Grammy-winner Kevin Bond while they were both in the recording studio working with the NC Mass Choir. Gray continues his career as a first-call studio musician in the worlds of gospel, jazz and R&B and has played on many recordings while also making his name as a veteran live performer who is known throughout the East Coast as being able to lay down a groove in any situation. With Gray's collection of musical friends and associates, any gig featuring Gray is sure to turn up a who's-who of musical All-Stars.
Jaman Laws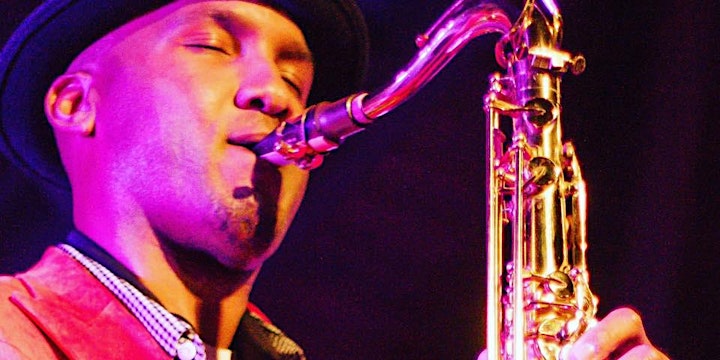 Los Angeles, California based Jaman Laws grew up in a musical family. Jaman is the son of legendary saxophonist Ronnie Laws. At an early age, Jaman showed an interest in music while traveling on tour with his father. Jaman began to catch on to many of the jazz greats like Earth, Wind and Fire, Miles Davis, John Coltrain, Stevie Wonder, The Jazz Crusaders, and many more. At the age of ten, his father bought him his first alto saxophone and encouraged him to study music in school. Jaman began performing in the school bands, learning how to read and play music, as well as how to play by ear. After graduating high school he decided to take his music career further by attending local junior colleges while performing on the road with his father. At the age of 20, Jaman started playing locally in the Los Angeles area at open jam sessions. He started to discover and absorb as much as he could from the musicians around him. While playing live, he started to develop a name for himself and began performing with local bands, playing reggae, R&B, hip-hop, and jazz. One of his first official gigs was with well known drummer Norman Conners, who inspired and motivated Jaman to work himself more and more into the music scene. He soon began playing with his two aunts Eloise and Debra Laws, and eventually got to showcase his talents on the HBO special "Lakawanna Blues". While playing with other groups, Jaman always planned to pursue a solo career. He began writing and arranging his own music, a fusion of hip-hop, funk, jazz, and soul. Jaman has just finished his first solo record entitled "Imagery", produced by Craig T. Cooper and Ronnie Laws.
MIDDLE C JAZZ | Ticket Terms and Conditions
1. Final sale. No refunds, no exchanges, not transferable.
2. We are located at 300 South Brevard Street, at the corner of South Brevard and East M.L.K. Jr. Boulevard.
3. Enter on South Brevard Street.
4. Paid parking is available in the 300 South Brevard deck, accessible via East M.L.K. Jr. Boulevard. Space is not guaranteed.
5. If traveling via public transportation, the nearest LYNX stop is the 3rd/Convention Center Station.
6. Seating is first-come at the door. Only Baby Grand Members qualify for early seating.
7. Doors open 30 minutes prior to the performance for General Admission ticket-holders. Doors open one hour prior to the performance for Baby Grand Members for the first show of the night. If time permits, members will be allowed early access to the second show but only the first show of the night will have guaranteed 30-minute early entry for Baby Grand Members.
8. Photography or recording of any kind is strictly prohibited. Smartphones are permitted.
• Tickets can be redeemed using a smartphone, no printing is required.
• All shows all ages unless otherwise posted, but please consider this is an adult setting.
• A full bar and light food menu are available throughout the show.
• At Middle C Jazz, we believe in taking care of each other and of ourselves. Please approach your concert experience with consideration for the enjoyment and safety of others, and please travel to and from your show responsibly.