Joe Gransden: Songs of Sinatra and Friends
Fri Aug 28 @ 9:00 PM
$32.00
Renowned first for the hard bop approach of his trumpet, Gransden's singing voice has been compared to that of Chet Baker and Frank Sinatra
Middle C Jazz presents one of Atlanta's most celebrated and busiest performers, jazz trumpeter and vocalist Joe Gransden. Well known across the country for his incredible 16 piece big band, Joe has been compared to Sinatra and Chet Baker but with a signature style all his own. Joe will perform with one of his long-time collaborators, jazz pianist Kenny Banks. Banks is a composer, arranger, educator and performer who slips effortlessly among musical styles and who has played with artists such as Aretha Franklin, Jennifer Holiday, and Earl Klugh.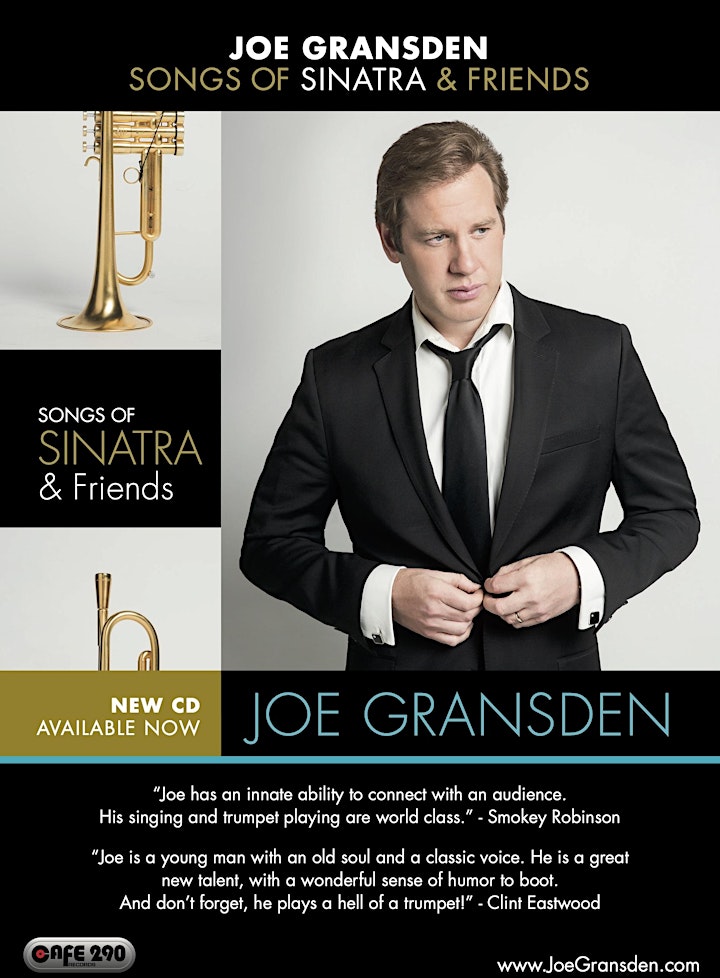 Joe Gransden
Trumpeter/vocalist moves forward in his promising career
Band leader Joe Gransden has performed worldwide and released 16 CDs under his own name. Renowned first for the hard bop approach of his trumpet, Gransden's singing voice has been compared to that of Chet Baker and Frank Sinatra.
"When I first heard Joe nine years ago, I immediately thought of Chet," says Jazziz magazine critic James Rozzi, "but lately his voice has taken on its own style with a deeper resonance. His trumpet has always alternated lyricism with an aggressive, angular approach. He has the ability to cover the gamut of emotions."
Joe is from just north of Manhattan, New York. Coming from a family full of musicians, Joe's introduction to music came early on through his father, a gifted singer and pianist. His grandfather was a trumpeter of merit, playing professionally his whole life throughout New York. On his mother's side of the family was the piano virtuoso Carmen Cavallero.
"Music has been a part of my life as far back as I can remember," says the unassuming Joe Gransden. "I can remember practicing with my father, and eventually him taking me along to sit in at jam sessions. Early on I developed a respect for individuals like my father whose lives revolved around music. While still in high school, I knew that music was the life I would choose."
Not long after high school, Joe was on the road as a sideman with the big bands of Tommy Dorsey and Glenn Miller. A number of A.F.M. contracted sideman gigs include Barry White, The Moody Blues, Kenny Rogers, The Temptations, Aretha Franklin, The Whispers, etc. Eventually moving to New York City, he performed with numerous groups, including sub work with Toshiko Akiyoshi and Chico O'Farrill at the famous Birdland Jazz Club. Meanwhile, Joe formed his own group, which performed in Brooklyn each week and included the venerable guitarist Joe Cohn and ex-Betty Carter bassist, Matt Hughes. "Having my own group and being fortunate enough to travel, play, and record has been a dream come true," says Joe.
"Exploring the music with a steady group of great players has enabled me to continually grow." Joe Gransden growing legion of fans around the country have obviously taken note. In Atlanta, where Joe plays steadily 5-6 nights a week in as many venues, his loyal following includes an array of people from blue-collar workers to upper crust businessmen and businesswomen who all share a love of good music.
Like many developing jazzmen, Gransden's early influences, which include Kenny Dorham and Miles Davis, were easily recognizable in his playing throughout his formative years. "Emulating the jazz greats is always the very first step," says the historically-rooted Gransden. "But obviously, in order to be true to myself—who I am, pwhat I believe in, my family background—I need to have a sound that's my own. It's taken me until recently to hone in on that voice and explore its potential. One of the truly enjoyable things about my career has been finding that my audience appreciates my individual talents."
A widening schedule has found Joe performing the 1st and 3rd Mondays of every month at Café 290 in Atlanta w/his 16 Piece Big Band , The Jazz Corner in Hilton Head, South Carolina, The Blue Note NYC, The Museum of Art and Design in midtown Manhattan, Spivey Hall in Atlanta, Ga and Tehema Golf Club in Carmel, California (where Joe regularly plays events for Clint Eastwood). Joe also just released his brand new Big Band cd entitled "Go Getta"! The title track was written for Joe by Kipper Jones and features saxophone great Kenny G!
Pick your copy up today on Joe's website, ITUNES, CDBABY etc….
Kenny Banks
Jazz Pianist
Composer, arranger and performer who slips effortlessly among musical styles while retaining his own distinct sound. This Columbus Ohio native has been studying and playing since the age of seven. He first developed his gift through the church, which led him to study music at Central State University. Following graduation, Kenny taught vocal music in the Columbus Public Schools before pursuing his dreams by touring as a clinician, keyboardist, musical director and producer across the United States and other parts of the world. Kenny has appeared on BET and the Image Awards. He has performed at the inauguration and the United Nations Ceremony for President Barack Obama and appeared in such notable places as Carnegie Hall in New York City and the Philharmonie in Berlin. Kenny has also appeared in movie scenes from Tyler Perry's "The Family That Preys"and has a composition entitled "Hello Love" on the GMC movie "Raising Izzie". Among his many high profile performing credits are appearances with Earl Klugh, Kenny Garrett, Wess Anderson, Russell Gunn, Lizz Wright, Rene Marie, Kevin Mahogany, Kurt Whalum, Albertina Walker, Dorothy Norwood, Jennifer Holiday, Aretha Franklin and the Philadelphia Orchestra. Kenny received his Master's degree in Jazz Studies at Georgia State University. He currently resides in Atlanta with his wife (Angelia) and three children (Kenny Jr., Sydney and Sasha). Kenny serves as accompanist, music director and chorale director for Cascade United Methodist Church. He occasionally makes appearances at well known local jazz venues with premiere Atlanta jazz talent and continues to record and travel abroad performing with International recording artist Lizz Wright. The release of "Truly Free" is Kenny's first Jazz CD but the latest recording of "Dichotomy" is as a duo w/ recording artist (trumpet) Joe Gransden.
"Music is designed to heal, for it will soothe the body, relax the mind and inspire the heart while uplifting the spirit."
TICKET TERMS AND CONDITIONS
1. Final sale. No refunds, no exchanges, not transferable.
2. We are located at 300 South Brevard Street, at the corner of South Brevard and East M.L.K. Jr. Boulevard.
3. Enter on South Brevard Street.
4. Paid parking is available in the 300 South Brevard deck, accessible via East M.L.K. Jr. Boulevard. Space is not guaranteed.
5. If traveling via public transportation, the nearest LYNX stop is the 3rd/Convention Center Station.
6. Seating includes the club & patio and is first-come at the door. Only Baby Grand Members qualify for early seating.
7. Doors open 30 minutes prior to the performance for General Admission ticket-holders. Doors open one hour prior to the performance for Baby Grand Members for the first show of the night. If time permits, members will be allowed early access to the second show but only the first show of the night will have guaranteed 30-minute early entry for Baby Grand Members.
8. Photography or recording of any kind is strictly prohibited. Smartphones are permitted.
• Tickets can be redeemed using a smartphone, no printing is required.
• All shows all ages unless otherwise posted, but please consider this is an adult setting.
• A full bar and light food menu are available throughout the show.
• At Middle C Jazz, we believe in taking care of each other and of ourselves. Please approach your concert experience with consideration for the enjoyment and safety of others, and please travel to and from your show responsibly.