The Buena Vista Legacy Band featuring Gino Castillo and more
Sat Nov 28 @ 7:00 PM
$44.00
Tribute band to Buena Vista Social Club ft. Gino Castillo proudly supporting the Foundation for International Medical Relief of Children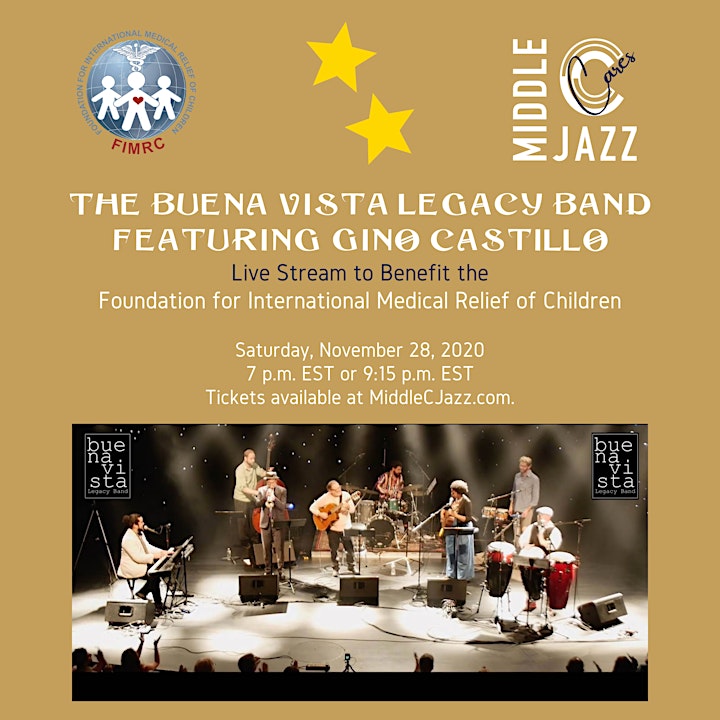 Middle C Jazz is thrilled to host The Buena Vista Legacy Band featuring Gino Castillo and more in support of the Foundation for International Medical Relief of Children (FIMRC), a nonprofit that provides access to healthcare for medically underserved families around the world.
Founded in 2002, FIMRC is dedicated to improving access to healthcare for families around the world through implementation of innovative and self-sustaining health programs. Through its network of outpatient clinics and partnerships, FIMRC asserts a multidimensional strategy that includes clinical services, extensive community outreach efforts, and health education programs – and every livestream ticket purchase from this show will help make that happen.
#MiddleCCares #JazzMusicForGood #LatinMusicForGood #FIMRCmusic #GinoCastilloFIMRC
Craft cocktails and small plates begin at 6:00 pm.
Seating includes the club & patio and is first-come at the door. Only Baby Grand Members qualify for preferred seating. Learn more about Middle C Jazz memberships.
Tribute band to Buena Vista Social Club, based in Charleston SC, Gino Castillo: vocals, percussion, Abdiel Iriarte: piano/musical director, Yusa: vocals/tres, Jake Holwegner: upright bass, Jorge García: guitar, Ron Wiltrout: percussion and many more…
The Buena Vista Legacy Band
Buena Vista Legacy Band originated in Charleston, South Carolina, after Charleston Music Hall director Charles Carmody called Gino Castillo, band leader of the Cuban Cowboys, with a proposal to do a tribute to the iconic band immortalized in Wim Wender's 1999 Documentary film Buena Vista Social Club.
The idea was to incorporate into the project several young, Cuban musicians who are recognized as new legends on the Island. Having performed with some of the original members of Buena Vista, these musicians were also part of Wender's second movie, The Sons of Cuba.
This began a collaboration between old friends from Charleston and La Habana, resulting in a concert showcase first performed at the Charleston Music Hall on October 11th, 2019. The project was also a part of a mini documentary that, on a much smaller scale, respectfully recalls the original film from the 1990's.
Buena Vista Legacy Band features several talented musicians from Cuba, including Yusa on the Cuban tres and vocals, Oliver Valdes on drums, and Julito Padron on trumpet and vocals. From Charleston, the band brings musical director Abdiel Iriarte on piano, Gino Castillo on vocals and percussion, Jake Holwenger on upright bass and Jorge Garcia on guitar. Together, the group aims to serve as an instrument carrying the old Cuban music to a new generation.
TICKET TERMS AND CONDITIONS
1. Final sale. No refunds, no exchanges, not transferable.
2. We are located at 300 South Brevard Street, at the corner of South Brevard and East M.L.K. Jr. Boulevard. Enter on South Brevard Street.
3. Paid parking is available in the 300 South Brevard deck, accessible via East M.L.K. Jr. Boulevard. Space is not guaranteed. If traveling via public transportation, the nearest LYNX stop is the 3rd/Convention Center Station.
4. Seating includes the club & patio and is first-come at the door. Only Baby Grand Members qualify for preferred seating. Learn more about Middle C Jazz memberships.
5. Photography or recording of any kind is strictly prohibited. Smartphones are permitted.
6. Tickets can be redeemed using a smartphone, no printing is required.
7. All shows all ages unless otherwise posted, but please consider this is an adult setting.
8. A full bar and light food menu are available throughout the show.
9. At Middle C Jazz, we believe in taking care of each other and of ourselves. Please approach your concert experience with consideration for the enjoyment and safety of others, and please travel to and from your show responsibly.
10. As a courtesy to our patrons, please place cell phones on vibrate and keep conversation to a minimum during the show. Middle C Jazz reserves the right to refuse entry or to ask any patron to leave the club if necessary, to ensure the safety of other patrons.